The 2013 Kia Forte Koup EX vs. the 2012 Honda Civic Coupe LX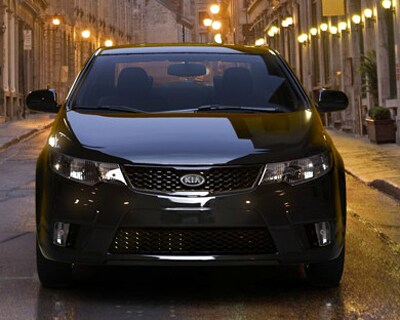 The compact coupe market is a competitive segment, but the 2013 Kia Forte has features and options that Center Point, IA drivers love. It's available for smart buyers to try now at McGrath Kia in Hiawatha, and it stands up well against the competition. Here are some facts to consider when thinking about how the 2013 Forte Koup EX fares against the 2012 Honda Civic Coupe LX with a 5-speed manual transmission.
Warranty
A new car is one of the most expensive purchases that people make, second only to buying a home, but when you make such a large investment you want to make sure that you're protected. Kia's compact coupe, along with the rest of their lineup of vehicles, have one of the most competitive warranties on the market, and it makes a big difference in the long run.

The basic warranty for the Forte EX is 5 years/60,000 miles, whereas the Civic is covered for 3 years/36,000 miles. There's an even more dramatic difference when it comes to the powetrain coverage: Kia offers 10 years/100,000 miles of coverage, while the Honda only features 5 years/60,000 miles of coverage. The Forte has almost twice the amount of protection than the Civic when it comes to warranty coverage.

Features and Options
Sometimes, the little details can accumulate and affect the way that you perceive value in a given car, and the Forte Koup has sensible standards and options that drivers appreciate. For instance, it comes with heated power mirrors and alloy wheels as standard conveniences. With the Civic Coupe, heated exterior mirrors aren't a possibility and the composite wheels are listed as an upgrade.

One of the external options that smart buyers hold in high regard is having the choice of a power sunroof with a tilt feature in the Kia. Again, it's not available with this Honda model. Cabin standards that add an extra touch in the Forte are satellite radio and dual vanity mirrors. The enhanced radio is optional in the Civic, and convenience mirrors aren't a choice. The option to add a navigation system and automatic climate control seems sensible on the Kia Koup - but, once more, buyers aren't able to opt for these with the Honda Coupe.


Come see the new Forte at McGrath Kia
McGrath Kia has a stellar inventory of new and used vehicles in stock now. Come see the new 2013 Kia Forte Koup at our dealership in Hiawatha, which is a quick trip from Center Point, IA.