The 2013 Kia Forte Koup vs. the 2012 Honda Civic Coupe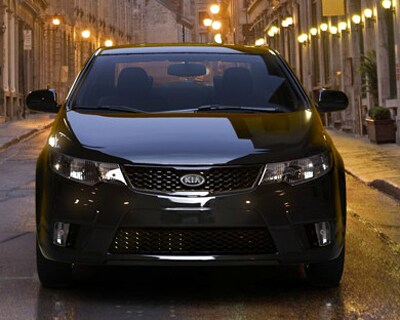 For those itching to try the 2013 Kia Forte Koup around Marengo IA, we don't blame you - it's a fantastic vehicle. Fit with sportiness, a stylish body, and tons of cabin room, this car is a force to be reckoned with when it comes to coupes. Nevertheless, how does it fare against the 2012 Honda Civic Coupe. Known for being versatile and well rounded, the Civic is hard to contend with. Let's see how the Forte stacks up.
The 2013 Forte Koup has a Definite Edge
Let's start with discussing what both vehicles have going for them in the way of features. On the Forte Koup EX, we find things like satellite radio, an audio system with CD player/MP3 playback, Bluetooth capabilities, air conditioning, and more. And, if you look at the various trim levels, advanced features like a navigation system are added. Similarly, the 2012 Civic Coupe offers much of the same in the way of features, so it's a wash. But there's much more to each of these models.
When it comes to safety, the Kia's stylish coupe does not mess around. The car comes equipped with a slew of safety features that won't make you question your safety for a second. It includes front side airbags, full-length side curtain airbags, front active headrests, anti-lock brakes with brake assist, and electronic stability control. The Forte also earned designation as a Top Safety Pick by the Insurance Institute for Highway Safety. On the other hand, the Civic Coupe comes with stability control, anti-lock brakes, front side-impact airbags, and side curtain airbags. The Civic's safety features don't seem quite as extensive.
Let's also talk for a moment about sheer speed. The 2012 Civic Coupe can only put out 140 hp out of its 1.8L four-cylinder engine - less than the 2013 Forte Koup, which gets 156 hp out of its trusty four-cylinder.

Try the 2013 Forte Koup at McGrath Kia
As you can see, while both vehicles definitely have their ups and downs, it seems clear that the 2013 Kia Forte Koup wins out in the end. Don't take our word for it - come from Marengo, IA to McGrath Kia and experience all that it has to offer today. You can also check out our Facebook page for more information.