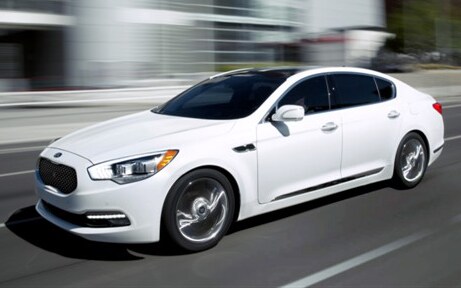 Kia is taking direct aim at luxury brands like Lexus, Audi, BMW, and more with the all-new 2015 Kia K900. This rear-wheel drive sedan offers luxury and refinement usually reserved for high-end names, giving Kia a flagship car that is set to change the perception of Kia for years.
The move into rear-wheel drive large sedans is actually a no-brainer for Kia. Before the K900, Kia launched the Cadenza, a full size sedan with luxury materials and features.
2015 Kia K900: Reshaping Kia Forever
Everything in the K900 shows opulence and luxury, from the sculpted exterior design to the premium-laden interior.
Premium Interior: If the 2015 Kia K900 is going to compete with the top dogs of luxury, it will need to have an excellent interior. Kia designers had this in mind when they offered three-spoke-leather wrapped steering and soft-hue LED lighting. The cabin also features genuine wood trims to complete the calming, comfortable ambiance.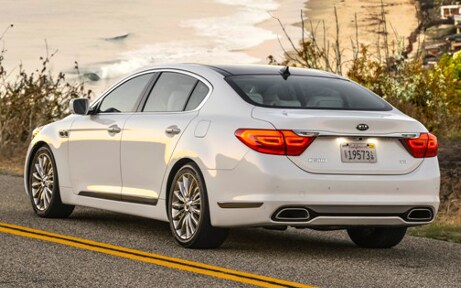 For interior technologies, Kia has really upped their game in the K900 with a full-color LCD screen, Kia's first Heads-Up Display, and a premium audio system with an inverted subwoofer and 17 speakers.
Elegant Exterior: Kia designers made full use of the K900's 119.9-inch wheel base. Subdued cut lines along the doors and high rear-deck lid give a muscular look to the sheet metal.

Kia's signature grille looks perfect on the finely sculpted K900, and chrome elements used selectively give the K900 a shining appeal with being over-bearing.    
Power Befitting a Flagship: The Kia K900 comes with two engine choices, both of which are setting new standards for the brand.
The first engine choice is a 3.8L Lamba V6 that produces 311 horsepower, making it the single most powerful V6 in Kia's lineup.
The second engine is a 5.0L V8, the first eight-cylinder engine offered by the Kia brand.
These advanced engines will offer superior power, while the independent front and rear suspension will soak up road imperfections and deliver only a smooth, gliding ride.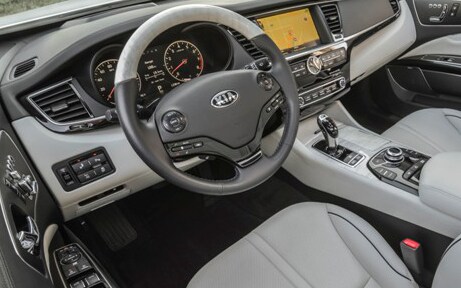 If you think Kia is all small cars and crossovers, think again. While the automaker still excels in compact vehicles, it is proving with the Kia K900 that it can play in the court of large luxury brands.
Proud to Serve the Drivers of Cedar Rapids
McGrath Kia in Hiawatha is proud to offer our services to the people of Cedar Rapids and Iowa City. If you are in the market for a high-quality vehicle, give us a call at 888-619-8282.

BROWSE OUR CURRENT KIA INVENTORY
We have the large inventory you want and the service you deserve, so give us a call today!