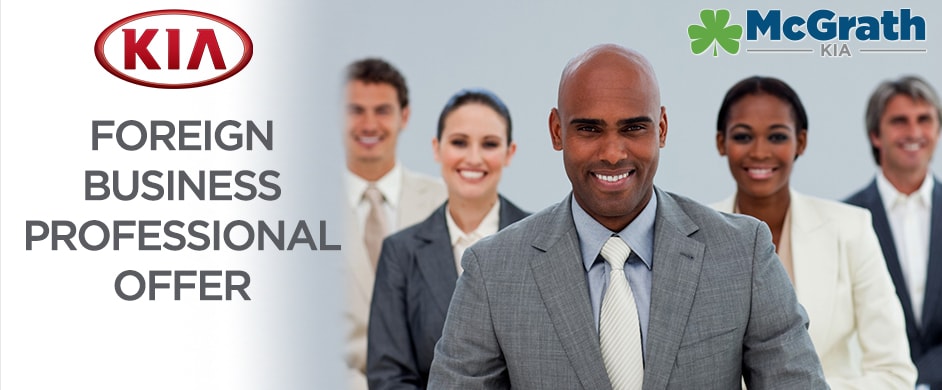 Kia's Special Offer for Foreign Business Professionals!
Kia Motors Finance (KMF) is pleased to offer the Foreign Business Professionals Program, which helps foreign professionals get into a new or certified pre-owned Kia at an attractive rate.
Learn More about Kia's Foreign Business Professional Offer
Offers lease or retail installment credit to eligible individuals from foreign countries residing in the United States (L-1 or H-1 visa holders), who have limited or no U.S. credit history and who do not have a cosigner.


Eligible customers can qualify for select KMF retail, lease, or CPO programs.


Foreign Business Professionals Program Addendum provides customers with protection so that if their U.S. visa or U.S. sponsored employment ends early, they can end their lease or sell back their vehicle with no penalties.
---
Customer Requirements


Copy of applicant's U.S. Social Security Card
Copy of applicant's U.S. visa with all photos redacted (L-1 or H-1)
Letter of employment which includes the applicant's job title, start and end date, anticipated length of employment in the U.S., and a human resources contact (length of stay must be verified by employer contact)
Documentation to prove verifiable length of stay in the U.S. if not otherwise supported by applicant's U.S. visa or letter of employment
Two verifiable references residing in the U.S.
Verification of U.S. residential address and phone number (proof of residence such as utility bill, credit card statement, rental lease agreement, signed home purchase contract)
Agreement to provide full coverage automobile insurance
Verifiable minimum annual income of $60,000 (two consecutively dated pay stubs)
Signed Foreign Business Professionals Program Addendum for lease or retail